During the first season of the Grand Farm, North Dakota State University was working with data logging sensors collecting information on a unique geographical feature of the Innovation Site. The Signum team proposed a solution to North Dakota State University which would provide real-time data collection, through a public source that visualized the data. This sparked a collaboration between Signum and North Dakota State University's research teams.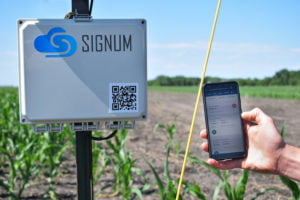 Over the off-season, Signum developed from scratch hardware that would provide a sensor agnostic platform for integration into NDSU's current research efforts. This platform communicates via cellular to a website that provides real-time data visualization in a public channel. This unique equipment is being used on the Grand Farm Innovation Site in 2021 to help NDSU continue their work throughout the season to better understand how elevation changes in clay-like soils affect soil moisture, temperature, and electric conductivity.
The hardware Signum has developed is unique in the sensor and IoT environment providing a low-cost, easy-to-use, sensor agnostic platform. This allows growers to utilize any sensor they would want to implement in the field and collects data for them via a web interface.