At the start of Grand Farm, Brian Carroll and Dr. William Aderholdt attended a workshop at Microsoft's campus highlighting the current gaps in big data in agriculture. This sparked the potential opportunity for work in supply chain and traceability the Grand Farm could contribute to helping fill this gap. During early discussions of HarvestTrace (earlier called Project X), Peter Schott, co-founder of Genesis Feed Technologies, became one of Grand Farm's primary thought leaders and partners in this effort. Through multiple virtual events, discussions, and steering committee meetings, Peter continued to pave the way. Genesis Feed Technologies later launched Seed-to-Feed, a large-scale project, on the Grand Farm with multiple partners.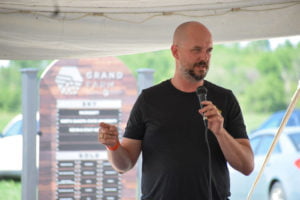 Genesis Feed Technologies provides a platform that "combines formulation data with ingredient quality and price information." This allows feed enterprises to "make informed, profitable decisions that reduce manufacturing costs." This platform became the cornerstone of the Seed-to-Feed large-scale project Peter Schott began.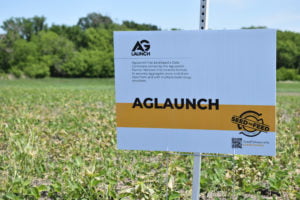 Seed-to-Feed is a collaboration between 10 organizations to provide a scale representation of the supply chain from seed to feed. This collaboration includes Genesis Feed Technologies, Northern Crops Institute, Geora, Grand Farm, AgriDigital, ProSeed, AgLaunch, VeriGrain, Bushel, and Scio. The Seed-to-Feed project is happening on the Grand Farm Hub Site, with 5-acres dedicated to the work being accomplished. Since launch, several sensor/IoT and drone companies have contributed data to the project including: Signum, SoilTech Wireless, RealmFive, Field-of-View, and North Dakota State University.