ProSeed has numerous projects happening on the Grand Farm Innovation Site. Some of these projects include seed variation trials, the use of biologics to stimulate growth and nitrogen uptake, timing of input applications, timing of planting and harvest, and many more. These projects include many of the crops ProSeed provides to the growers throughout North Dakota and Minnesota.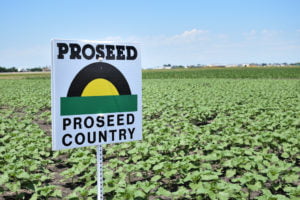 ProSeed partnered with Grand Farm because they believe innovation and data-driven results through research is an important way to stay current amongst the constant changes in the agriculture industry. At Grand Farm, ProSeed is currently growing "An Agronomy Playground" wherein they take real-life situations the growers could experience and implement them into their research.
For example, they have corn, soybean, and sunflower planting date studies, corn and soybean population studies, corn depth trials, multiple treatment studies, and much more. They want to present visuals for the growers to understand the effects of what they or others could possibly experience in a real-life situation on their farms. ProSeed does not believe in just handing out a pamphlet consisting of pictures and words describing any one of these situations. They believe meeting the growers in person and presenting something that can be seen and touched brings an experience to the grower that they will never forget.