Did you know that according to the U.S. Census of Agriculture, almost 70 percent of growers are over the age of 45 and almost 30 percent are over the age of 65?
Over the next 10 years, there's going to be a great transfer of knowledge that needs to take place for the next generation of growers to succeed. One of our goals at Grand Farm is to engage the next generation of agriculturalists. On September 20th, 2023, we gathered the future of agriculture together to ignite interest in what it means to feed the world!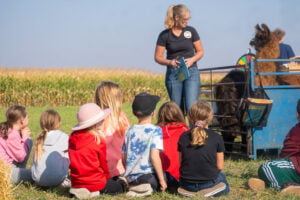 Kids learned from industry professionals through hands-on education models.
120 students between third and sixth grade made the trek to the Grand Farm Innovation Campus for the Livestock Bonanza Workshop for a day of connection, inspiration, and hands-on learning. 
During the workshop, students explored different aspects of agriculture through engaging breakout challenges, tested their knowledge on the trivia wheel, created delicious "Build a Burger" creations, enjoyed captivating stories, and got up close with real animals like llamas, ponies, and calves. 
Educators must continue to improve their understanding of agriculture to attract and retain people in the industry. All of our conferences have education workshops and components to bring together educators, students, researchers, and industry to build connections and transfer knowledge across generations.
Learn how to join the Grand Farm educator ecosystem and attend our annual conferences!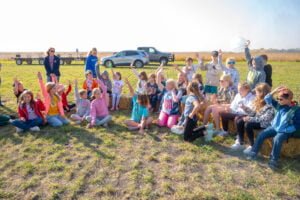 This learning experience was thanks to our event partners and the women who lead this initiative; Alisha Nord from the North Dakota Farm Bureau, Shelby Lyons from North Dakota Cattlewomen, and Hannah Gress from FFA Central Cass County; and our sponsor, the North Dakota Farm Bureau. 
Contact the Grand Farm Education Initiative by reading out to Ruchi Bhardwaj at ruchib@emergingprairie.com.