An Interview with Mary Snapp, the Vice President of Strategic Initiatives at Microsoft
Mary Snapp, the Vice President of Strategic Initiatives in the Office of the Vice Chair and President at Microsoft, stepped onto the red dot at TEDxFargo on July 20 and spoke on the new frontier of artificial intelligence, data, and how Microsoft empowers the already innovative world of agriculture.
Technology has forever been changing the way that we grow food, and growers are at the forefront of a united effort to feed the world. Microsoft has increasingly turned its attention to the growing field of AgTech and is looking for ways to feed the world and support farmers through innovation.
Microsoft looks for what other people are passionate about and find ways to invest their technology to enhance the field. They also create new frontiers and look for pioneers to champion new ideas. Recently, the boom of artificial intelligence and the trove of questions that have come alongside this new breakthrough in technology have prompted tech corporations like Microsoft to look for ways to invest in this growing technology industry.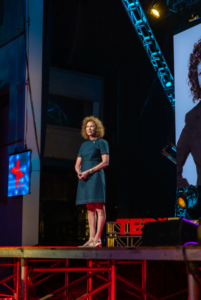 What is Responsible AI, and How Can it Revolutionize Agriculture?
Lately, the world has been introduced to a new branch of AI called generative AI, where computers respond to plain language prompts by pulling from content across a wide dataset to generate text, images, or other media as easy to understand answers in a much quicker amount of time than human abilities. Prompts themselves can be written in natural language. This enhances the human ability to obtain and analyze vast amounts of information and make decisions, which opens the door to endless possibilities with how it can be used in many industries, especially agriculture.
The AI realm continues to expand with various levels of security and accuracy. Bing, Microsoft's search tool, now incorporates generative AI into search and will answer in sentence format while also providing the source of the information when answering questions. However, guardrails on AI implementation remain imperative, especially concerning data privacy and sensitive use cases. In 2019, Microsoft set up an Office of Responsible AI, part of a company-wide effort to ensure that its AI systems are designed with transparency, safety, privacy, and other principles in mind.
Last month, the White House secured voluntary commitments from Microsoft and other major tech companies to help move toward the safe, secure, and transparent development of AI technology. Simultaneously, Europe is enacting regulations to govern AI applications. Setting industry standards requires a combination of efforts involving government, education, academia, and technology
Data Interoperability
Microsoft often works within a broader ecosystem for the collection and analysis of data. In the field of agriculture in particular, it is vital to focus on the interoperability of data, which involves using data from different sources and methods to make conclusions that make the best use of that data.
One of the primary pain points with using data in agriculture is that there are different means of collecting data, but there isn't one place to synthesize this data and draw insights from it. Recognizing that scaling innovation across the industry starts with data, Microsoft expanded on earlier research and built Azure Data Manager for Agriculture as a commercial solution to connect farm data from disparate sources, enabling organizations to leverage high-quality datasets and accelerate the development of digital agriculture solutions.
Another pain point with data collection in agriculture is data ownership. For its own part, Microsoft believes that any data a grower uses or generates with Microsoft technology still belongs to that grower. "Your data is your data," said Mary.
Maximizing Data to Invest in the Grower
Ag is already innovative. Microsoft's goal is to figure out how to support an already innovative industry with technology. Using data gathered from farm sources will begin to set standards for results so it is clear what is being measured and improvements that are made from that point.
Mary declared, "Agriculture is an art and a science, and if Microsoft could support the science part, that's what we want to do."
Educating the Farmers of the Future
Three challenges exist in agriculture education: The branding of ag and getting non-farm kids excited about it; supporting educators by providing resources and connections for rural communities; and industry collaboration to promote fields that students might not know about or be interested in.
Few outside of agriculture really understand what it is or what life is like for a grower on a farm. The organization FFA is training the next generation by building leadership skills and providing kids with a window into the world of ag.
When asked why she has such an interest in agriculture, Mary reflected on her upbringing in a small town in Kansas. "You find the most extraordinary people in the most ordinary places," she said. Educating the farmers of the future opens doors to inspire innovation and build trust that can change the world.
Building Trust to Build the Future
Farmers do the same thing every year—grow crops. Microsoft looks for the best way to synthesize their information over time to provide easier access to their own data and other insights to show what is possible. Companies like Microsoft should earn the trust of growers through their actions, accountability, and transparency by encouraging growers and industry professionals to check their work and keep them accountable to build the farm of the future.
Read the article published in Future Farmer.
Original article by Kennedy Fields.