EarthScout, located in Minneapolis, Minnesota, began their engagement with Grand Farm as a startup with a Plug-and-Play North Dakota cohort. As Grand Farm and EarthScout developed a relationship, it became clear they were perfect to implement on the Grand Farm Innovation Site. In June 2021, EarthScout placed eight sensors on the Grand Farm to provide real-time data on soil health and weather conditions.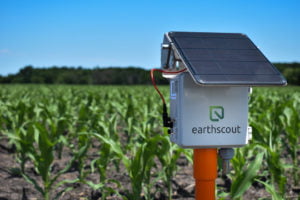 Utilizing a gateway that connects all these sensors, providing access to the data in a web interface, the sensors are providing data to partners doing crop work on the Grand Farm. These sensors provide readings of soil temperature, soil moisture, and electrical conductivity throughout the farm, allowing for a holistic view of the Innovation Site's operations and many projects. The sensors are currently providing information to ProSeed, CHS, and Genesis Feed Technology's Seed-to-Feed plots.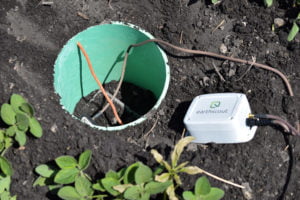 While Grand Farm does not have an irrigation system in place to control soil moisture, these readings go beyond this application. Soil moisture and temperature and weather readings provide key information to growers on the timing of spraying herbicide, pesticide, and fungicide throughout the season. For many crops, soil moisture and temperature are also very important metrics for planting and harvest.